Call For Papers - 2014

Proposals for paper presentations, workshops, or colloquia are invited for the Fourth International Conference on Food Studies being held at Monash University Prato Centre in Prato, Italy from 20-21 October 2014. We welcome proposals from a variety of disciplines and perspectives that will contribute to the conference discourse.

We also encourage faculty and research students to submit joint proposals for paper presentations or colloquia. Proposals are invited that address the food sciences issues through one of the following categories:

Theme 1: Food Production and Sustainability
Theme 2: Food, Nutrition and Health
Theme 3: Food Politics, Policies and Cultures



Presenters may also choose to submit written papers for publication in the fully refereed Food Studies: An Interdisciplinary Journal. If you are unable to attend the conference, you may still join the community and submit your article for peer review and possible publication, upload an online presentation, and enjoy subscriber access to the journal.


The current deadline for proposal submissions (title and short abstract) is 1 April 2014*. Please visit our website at the link below for more information on submitting a proposal, future deadlines, and registering for the conference.

*Proposals are reviewed in rounds adhering to monthly rolling deadlines. Check the website often to see the current review round.
---
The Tuscan Region and the Food Studies Conference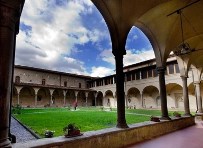 Now in its fourth year, the Food Studies Conference makes its first foray internationally to Italy, the birth place of the Slow Foods movement, and will be held during the picturesque harvest season in Italy's Tuscan Region. Aptly hosted just days before the bi-annual Terra Madre Festival, the Food Studies Conference in Prato, Italy is a perfect precursor bringing together researchers and academics from across the globe to discuss the food sciences and latest research in all their aspects directly before the renowned world meeting of food communities convenes in Turin.