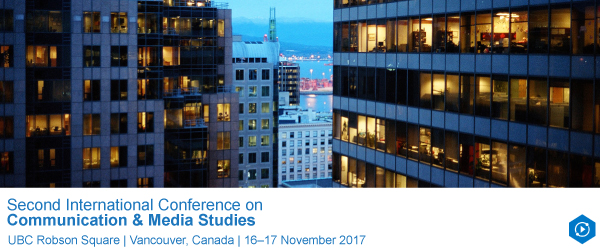 Call for Papers
We are pleased to announce the Call for Papers for the Second International Conference on Communication & Media Studies, held 16–17 November 2017 at the University of British Columbia – Robson Square in Vancouver, Canada.

Founded in 2015, the International Conference on Communication & Media Studies offers an interdisciplinary forum for the discussion of the role of media and communications in society.

We invite proposals for paper presentations, workshops/interactive sessions, posters/exhibits, colloquia, virtual posters, or virtual lightning talks. The conference features research addressing the annual themes and the 2017 Special Focus: Rethinking the "Mediascape".

For more information regarding the conference, use the links below to explore our conference website.
Submit your proposal by 14 November 2016.
We welcome the submission of proposals to the conference at any time of the year before the final submission deadline. All proposals will be reviewed within two to four weeks of submission.
Other Conferences of Interest
[UNSUBSCRIBE] | Conditions

Copyright © 2016 Common Ground Publishing